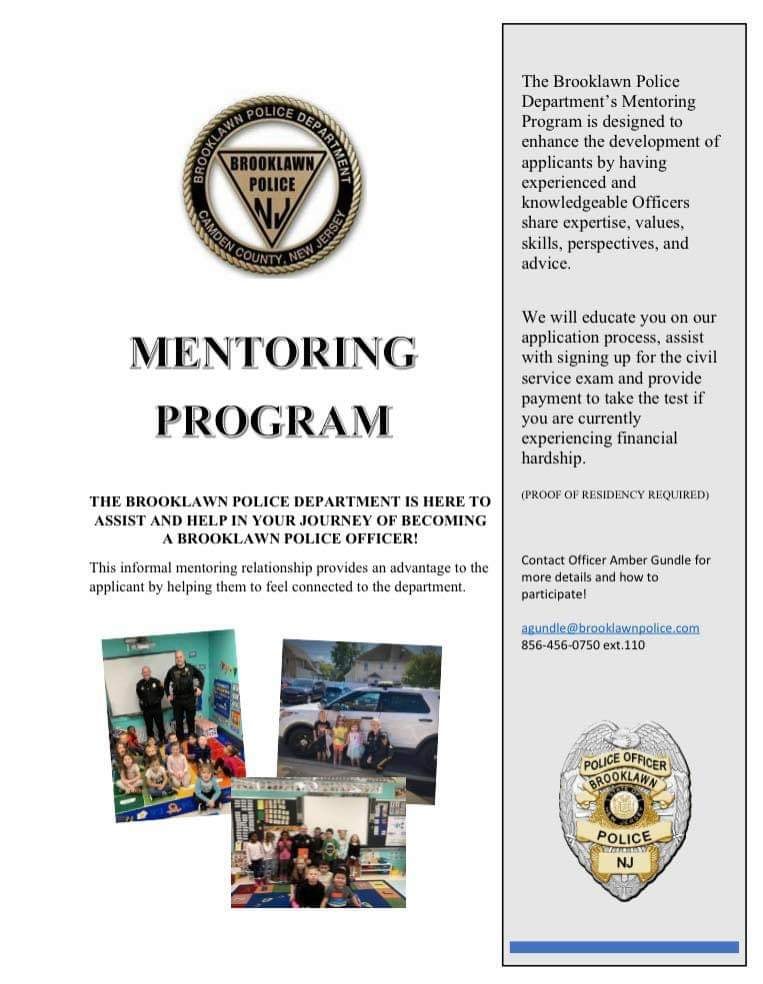 Click here for information regarding the Swift911 Emergency Notification System and how to participate.
---
SPECIAL NEEDS REGISTRY
In partnership with the Camden County Prosecutor's Office, the Brooklawn Police Department would like to inform residents of the new special needs registry.
The registry can provide police with emergency contact information, detailed physical descriptions, known routines, favorite attractions, or special needs of an individual. Examples of special needs include, but are not limited to:
• Mental Health Issues
• Mobility Issues (wheelchairs, power chairs, walkers)
• Dementia or Alzheimer's Disease
• Cognitive Impairments
• Autism
• Oxygen Dependency
• Hearing, Vision, or Speech Deficits
• Post-Traumatic Stress Disorder
• Dialysis Dependent
• Paralysis /Stroke Patients
• Developmental/ Intellectual Disabilities
• Life-Threatening Allergies
Every Brooklawn Officer has pocket cards with a QR code and information on how to register an individual with special needs. If you need help registering a loved one, please contact Det. Amber Gundle at 856-456-0750 ext. 112 or email her at agundle@brooklawnpolice.com.
Please know that this will be replacing the department's internal autistic/developmentally disabled registry. If a resident was previously registered with us, we have uploaded their information into the new registry.
If you would like to learn more about their registry or enter your loved one, please follow the attached link: https://camdencountypros.org/special-needs-registry
---
Project Medicine Drop
The Borough of Brooklawn, in partnership with Rite-Aids KidCents Program, is proud to announce they we are now participating in the Drug Enforcement Administration's Project Medicine Drop. You can anonymously drop off old expired medications, medications you no longer use, and other drugs. Whenever the Borough building is open to the public you can dispose of your unwanted medication/drugs at your convenience. The mailbox style drop-box is located in the Borough Hall, just to the right as you walk in. You do not have to check-in with the police department, just deposit into the box as you would a mailbox.
On weekends and after business hours you can make arrangements to have an officer let you into the building to use the drop box. We do recommend that you take off all personal information from your medicine bottles/containers before depositing into the box.
HELPFUL GUIDELINES/INSTRUCTIONS:
Anyone dropping off medicine should first:
-Minimize as many containers as possible (combine medications in as few containers as possible, then recycle the old medicine bottles and boxes). Brooklawn Police Dept. must empty and store the contents of the medicine drop box until they are ready for destruction at an approved facility; we do not have unlimited storage capacity.
-Do not drop off vitamins, vitamins can be disposed of in your regular trash
-Liquids, such as cough medicine, Benadryl, topical ointments, etc., are NOT permitted for disposal in the box
-Needles and hypodermic syringes are NOT permitted
-It is recommended that you take the patients name off of the container
-Do not drop off empty containers, we just place them in the recycle bucket
THANK YOU for following these guidelines.
SPECIAL NOTE:
The medicine drop box is NOT for the use of Doctor's offices, nor pharmaceutical businesses, that need to dispose of medication.
Any questions please contact Police Officer Raymond Mckenney # 703 at 856-456-0750 ext 171 or email him at rmckenney@brooklawnpolice.com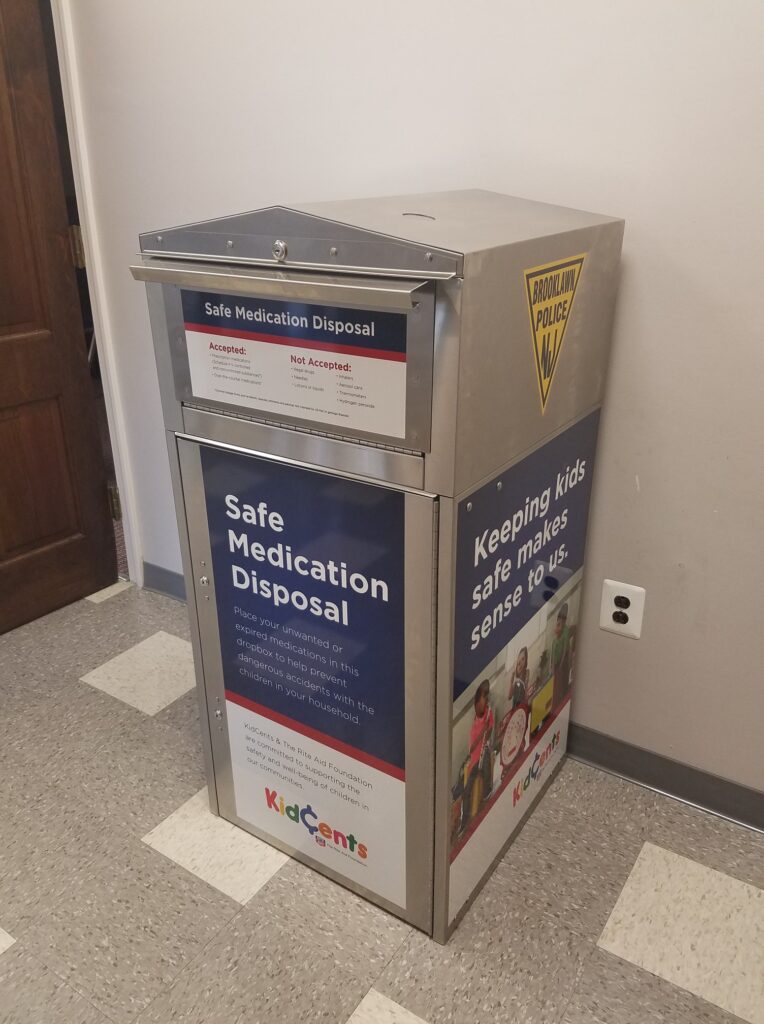 ---